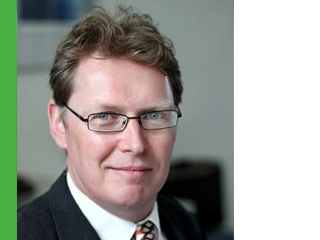 Name: Marc Vrakking
Nationality: Dutch
Date of birth: 1 September 1963
Short CV:
1987: graduated in Physics, Technical University of Eindhoven, the Netherland s 1992: PhD in chemistry, University of California Berkeley, USA
Current position:
Professor of Physics, Freie Universität Berlin, Germany Director of the Max Born Institute, Berlin, Germany Professor of Physics, university of Nijmegen, Netherlands Group leader at AMOLF, XUV Physics (until July 2011)
My appetite to become a scientist was wetted at a very early age. As a boy I was fascinated by the stories of my father (a research scientist at the Philips Physics Laboratories in Eind-hoven, NL). Life in laboratories seemed challenging and excit-ing. So, although I considered studying journalism and history, it was no surprise that in the end I chose to study physics. Af-ter the first few tedious years my enthusiasm was triggered when I got to work in a real lab. My first summer research pro-ject (on the properties of molecular beams made by expand-ing gas at high pressure through a little hole) led to an offer by my supervisor to spend half a year in a research laboratory in Japan.
At my host laboratory in Japan there were no PhD students, let alone undergraduate students. Since the people there seemed to have forgotten how little undergraduate students know, expectations seemed very, very high. But I went into the lab that I was given, invented my own research project, built some components using fancy machine shop equipment that I've never been allowed to use since (!) and… got really nice results Still, despite the hours that I spent in the lab – which exceeded even those of the Japanese colleagues – the real attraction was also Japan itself. Life far away from home in an exotic country made my stay amazing and utterly fascinat-ing. In the end, Japan was one of the most formative experi-ences in my life.
Spending time in Japan led to the US. After finishing up my Master's degree in Eindhoven I made my way to Berkeley to pursue my PhD in chemistry in the group of the 1986 Chemis-try Nobel laureate Professor Yuan Lee. Berkeley was re-nowned for its very difficult experiments. Lee certainly had one in mind for me: studying the reaction of H+H2 → H2+H using an all-laser experiment. I spent weeks behind my draw-ing board designing the experiment, then guiding the fabrica-tion of the instruments in the machine shop and building up and testing everything (including one of the first photo-electron/photo-ion imaging detectors.) After two and a half years, with every individual component finally working, the quality of the data proved insufficient to draw any important new conclusions. That was a massive disappointment, but it taught the importance of structuring your research program: providing enough intermediate results and milestones-along-the-way to feed your resume and not to dash for the much-anticipated finish line. Fortunately during my last year in Berkeley I did some experiments on the side which proved a big hit.
After 5 PhD and 2 post doc years I left Berkeley to spend a year in Ottawa "on my way home", to work with former Berkeley-colleague and good friend Albert Stolow, whose lab was part of the department of Paul Corkum. This brought me into con-tact with femtosecond laser techniques and many of the con-cepts that would become so important in my later work: high-harmonic generation, the response of molecules to intense laser fields, and – even! – the first thoughts about how one might be able to make attosecond laser pulses. I came back to the Netherlands on a fellowship and shortly thereafter was contracted by AMOLF start my own group. In 1997 I wanted to start a research group using high harmonics to probe time-resolved molecular dynamics. In 2000 we were ready to try pump-probe experiments, with very frustrating results. We managed a few nice publications, but we failed every time when we tried to do a pump-probe experiment with harmonics.
Then the first attosecond paper came out (in Science), follow-ing an idea from my AMOLF-colleague Harm-Geert Muller. A major result with just one little side note: why hadn't Harm-Geert done the experiment at AMOLF, where we had all the equipment available and ready-to-go!?
To underscore this, we started attosecond experiments at AMOLF, soon becoming the 3rd team to demonstrate them. Though the ideas on what attosecond pulses could be used for were still sketchy, I started/decided to focus on attosecond pulses.
This choice proved right. Attosecond science has developed explosively since then. Ironically, the efforts to develop atto-second experiments (characterizing the pulses and develop-ing setups where they could be used to study time-resolved electron dynamics) solved a lot of the problems that defeated our harmonics-based pump-probe experiments early on. Last year we went back to what in 2000 was supposed to be our first experiment, and it worked like a charm.
A few years ago I decided to accept an offer from the Max Born-Institute in Berlin to become one of its three directors. A tremendous challenge and opportunity. Working in one of Europe's premier centers for ultrafast laser science, where you can live out all your research dreams, was just too good to pass up. At the moment we are busy planning a series of new, state-of-the art laboratories where in the coming years our attosecond research program is going to get underway, with experiments where we'll investigate electronic and atomic dynamics on the fastest possible timescales. Truly something to look forward to!